Some of the most descriptive information for Mabel Reed comes from the Littletown, Massachusetts town vital records book which states the following for William Reed's family on page 529:
REED[1]
William Reade (same as William Reed p. 466) arrived in Boston Oct
6 1635, m 1635 Mabel Kendall. He d. in England 1656, she
m. 2d Henry Summers and d. June 5 1690 a. 85. Children:
George m. Aug 4 1651 Elizabeth Jennison who d. Feb 26 1664-5
a. He d. 1706 a. 77.
Ralph b. 1630 m. Mary Pierce, dau. Anthony. He d. Jan 4
1711, she d. Feb 18 1700.
Israel m. his cousin Mary Kendall. He d. June 25 1771, she d.
Jan 17 1721.
On page 466 it states:
1st gen. William Reed of Woburn, supposed son of Thomas, was b.
1587, came to America 1635, ancestor of Woburn, Lexington
and Bedford Reeds. He m. Mabel Kendall, b. 1605, and had children:
George b. in England 1629
Ralph b. 1636
Israel.
There are differences between these entries. The first lists the marriage year for Mabel and William as 1635, yet the second has their son George's birth in 1629.[2] It's possible Mabel is the second wife of William or that George's birth year is off, but there is an obvious conflict. The first entry has Ralph's birth in 1630 (making England his birthplace) and the other is in 1636 (England and Massachusetts equally likely).[3] Each entry has its own migration year for the family. The first entry has more details on William and his children, but the second provides a Woburn connection, possible parentage, and a birth year for William.
The point of this comparison is to send up a red flag signifying research was needed to confirm the Reed family details. Both pages are in the Littleton vital records, but this data was copied from the research of Samuel Smith (in the Reuben Hoar Library) and published in the same volume as the Littletown town vital records.[4] Smith's research was left to the town of Littleton when he died and some of it was on individuals who never lived there. His statements are a mix of facts and supposition.
Where did Mabel's maiden name come from?
In drilling down to find a reason Mabel was named as a Kendall by Samuel Smith, the root cause was found. It is a reference in the dispute between Mabel and her stepson, Henry Summers, over the estate of her second husband, also named Henry Summers.[5]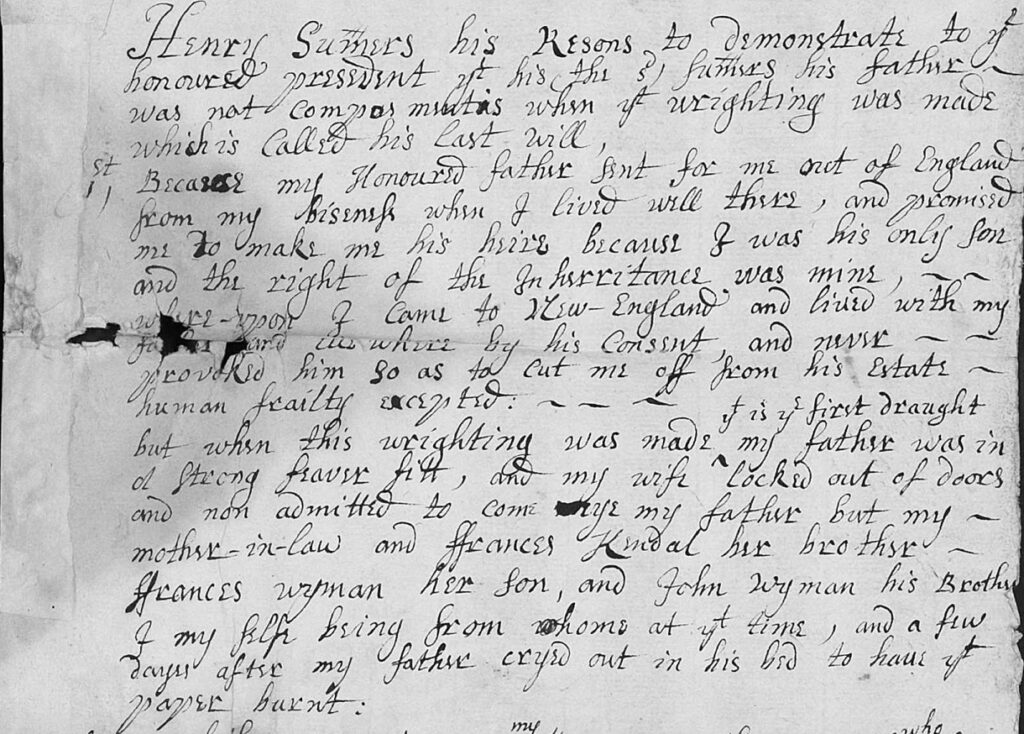 Transcription with abbreviated words written out:
Henry Summers his Resons to demonstrate to the
honoured pressdent that his the said Summers his father
was not compos mentis when that wrighting was made
which is called his last will
1st Because my Honoured father sent for me out of England
from my bisness when I lived well there, and promised
me to make me his heire because I was his only son
and the right of the Inherritance was mine,
where-upon I came to New-England and lived with my
father and as where by his consent, and never
provoked him so as to cut me off from his estate
human frailty excepted:
but when this wrighting was made that is the first draught* my father was in
A strong feaver fitt, and my wife locked out of doors
and non admitted to come [ ]ye my father but my
mother-in-law and Frances Kendall her brother,
Frances Wyman her son, and John Wyman his Brother.
I my selfe being from home at that time, and a few
days after my father cryed out in his bed to have that
paper burnt:
*draft
A few things become obvious from reading this paragraph. One is that Henry's "mother-in-law" is his stepmother, Mabel. "In-law" was a common way of referencing a relative who was legally connected rather than genetically. Second, Henry Summers (Jr) called Frances Wyman "her son," though it has long been established that he was the son of Francis and Elizabeth (Richardson) Wyman baptized 24 Feb 1619/20 in Westmill, Hertfordshire.[6] In this instance, Francis Wyman was named as a "son" because he married Mabel's daughter, Abigail, on 2 October 1650 in Woburn.[7] Third, Francis Kendall was called "her brother," but no record has been found in England of a Kendall als. Mylles or a Kendall family with a Thomas, Francis and Mabel. Mabel is about fifteen years older than Francis and while that gap could be filled with siblings, there is no getting around the fact that no family found to date matches this configuration. More importantly, Israel Reed, Mabel's third son, married Mary Kendall, daughter of Francis Kendall. Though no original town vital record documents this marriage, Clarence Torrey listed eleven histories and other sources which mention the marriage or couple.[8] In calling Francis Mabel's brother, Henry was referencing his role as father-in-law of Mabel's son.
Another opinion on the topic
The Great Migration Study Project also states there was no sibling relationship between Mabel (unknown maiden name) Reed Summers and Francis Kendall.[9] It gives no birth surname for Mabel and furthermore states:
"Nora E. Snow claimed that William Read's wife Mabel was sister of Francis Kendall, pointing to a deposition in which Mabel was supposed to have referred to Kendall as 'her brother' [Snow-Estes 1:324]. This deposition was made in the course of Mabel's dispute with her stepson Henry Sumers, and the statement set forth by Nora Snow has not been found in those documents. Even if Mabel did make such a statement, though, it would not necessarily support the claimed relationship inasmuch as her son Israel Read had married Mary Kendall, daughter of Francis, and according to the custom of the time this would be sufficient for Mabel to call Francis brother."[10]
Other Reed records
The Prerogative Court of Canterbury (available on Ancestry) probated the will of William Reed, Mabel's first husband, in 1656.[11] By that date, Mabel and William were back in England, where William identified himself as a yeoman of Copeland, Northumberland, which is in the northern part of England. Most of Woburn's early residents came from the southern part of England. William named several individuals who owed him money, which was to be paid to his wife and children, and his witnesses were also named.
Mabel and William were some of the few individuals who appear on a colonial ship's passenger list, crossing on the Defense in July 1635.[12] That list has William, Mabel and three of their children. Over twenty other surnames can also be found on the list. The point in mentioning these name-rich records is that they could be thoroughly researched to determine if any of the individuals or surnames in them can be attached to Mabel and her birth family and to see where in England they originated. Another point is that there are no Kendalls or Mylles in either record.
Conclusion
As the Great Migration Study Project pointed out, Mabel made no probate deposition. Her stepson did, and he kept with the convention of the time in how he noted relationships, so it was no surprise Francis was listed as a brother since his daughter and Mabel's son married. At no time did Francis or Thomas leave a single record naming Mabel as a sister, nor did Francis have any visible connection to Mabel and William Reed until his daughter married their son. William and Mabel had no connection with any Kendalls in any English documents. With no back up in any record Francis or Thomas created and none in records on William and Mabel, the conclusion can only be that Mabel was not a sibling of Francis and Thomas.
---
[1] "Massachusetts:Vital Records 1620-1850" database with images, American Ancestors (www.americanancestors.org : accessed 15 June 2023), Littleton vol 1, p. 529. Note, multiple, interchangeable spellings exist for the surname Reed and records were found for William which use Reed, Read, Reade, and other variations.
[2] The year 1629 is likely more accurate as his 1635 appearance on the Defense passenger list stated he was 6.
[3] Ralph is also on the Defense passenger list as age 5 in 1635.
[4] "Massachusetts:Vital Records 1620-1850" database with images, American Ancestors, Littleton vol 1, p. 398.
[5] Suffolk, Massachusetts, Massachusetts, Suffolk County, probate & family court records, 1636-1915: image 674, Henry Somers, 1675/1686, FSL DGS number 10,2863,927, no item number; digital images FamilySearch (www.familysearch.org : accessed 15 June 2023), probate packet 750.
[6] "Birth, Marriage, Death, & Parish Records," database with images, Find My Past (www.findmypast.com : accessed 15 June 2023), baptism of Francis Wyman in Westmill 1619.
[7] "Massachusetts Vital Records, 1620-1850," database with images, American Ancestors (www.americanancestors.org : accessed 15 June 2023), marriage of Francis Wyman and Abigail Reed.
[8] Clarence Almon Torrey, New England Marriages Prior to 1700 (Boston, Massachusetts: New England Historical Genealogical Society, 2011), 1254; digital images, American Ancestors (www.americanancestors.org : accessed 15 June 2023) Israel Reed and Mary Kendall.
[9] "Great Migration: Immigrants to New England 1634-1635, volume IV, R-S," database with images, American Ancestors (www.amerianancestors.org : accessed 15 June 2023), William Reed, p. 32-34.
[10] "Great Migration: Immigrants to New England 1634-1635, volume IV, R-S," database with images, American Ancestors, William Reed, p. 34.
[11] "All England & Wales, Prerogative Court of Canterbury Wills, 1384-1858," database with images, Ancestry (www.ancestry.com : accessed 15 June 2023), William Reed with transcription done by Celia Renshaw.
[12] John Camden Hotten, The Original Lists of Persons of Quality (London, England, John Camden Hotten, 1874), 106.