This will is the earliest finding (so far) of the Kendall als. Mills (or Mylles als. Kendall) surname.[1] More may surface later, but as the excellent analysis by Celia states, Thomas may be the first individual to use the alias surname. Here, in order, are the will, the transcription, and Celia's analysis of the will. No additional information is needed as the analysis covers everything that can be taken from the will.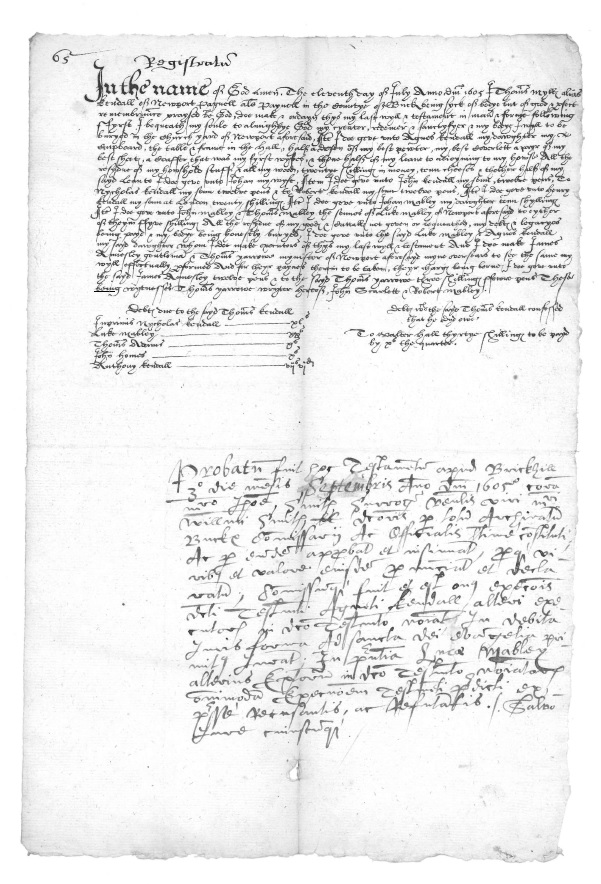 Here is the transcription of the will by Celia Renshaw:
Transcription of the will of Thomas MYLLS alias KENDALL of Newport Pagnell, Buckinghamshire
Written: 11 Jul 1605
Proved: 3 Sep 1605
Bucks RO ref: D/A Wf 1 6
Verbatim transcript by Celia, 23 May 2023, from pdf copy document supplied by Bucks RO, May 2023
Registratu'
In the name of God amen, The eleventh day of July Anno Dmi 1605 I Thomas MYLLS alias KENDALL of Newport Pagnell als paynell in the Countye of Bucks being syck of bodye but of good & p'fect remembrance praysed be God, doe make & ordayn thys my last wyll & testament in manner & forme following.
Fyrst I bequeath my soule to almightye God my creator, redemer & sanctyfyer & my bodye I wylll to be buryed in the church yard of Newport aforesaid.
Item I doe geve unto Agnes KENDALL my dawghter my cupboard, the table & frame in the hall, half a dosen of my best pewter, my best coverlett a payre of my best sheets, a coaffer that was my fyrst wyfes, & th'one half of my leane to adjoyning to my howse. All the resydue of my howshold stuff & all my wood, [strongly suggests a carpenter by trade] twentye shillings in money, tenn sheetes & th'other half of my sayd lean to I doe geve unto Johan my wyfe. Item I doe geve unto John KENDALL my sonn, twelve pens. To Nycholas KENDALL my sonn twelve pens & to Robert KENDALL my sonn twelve pens. Item I doe geve unto Henry KENDALL my sonn at London twenty shillings. Item I doe geve unto Johan MABLEY my dawghter tenn shyllings. Item I doe geve unto John MABLEY & Thomas MABLEY the sonnes of Luke MABLEY of Newport aforesayd to eyther of theym Fyve shillings. All the resydue of my goods & cattalls not geven or bequeathed, my debts & legacyes being payd & my bodye being honestly buryed, I doe geve unto the sayd Luke MABLEY & Agnes KENDALL my sayd dawghter whom I doe make executors of thys my last wyll & testament. And I doe make James ANNESLEY gentleman & Thomas YARROWE mynister of Newport aforesayd myne overseers to see the same my wyll effectually p'formed. And for theyr paynes therein to be taken, theyr charges being borne, I doe geve unto the sayd James ANNESLEY twelve pens & to the sayd Thomas YARROWE three shillings Foure pens. These being wytnesses Thomas YARROWE wryter hereof, John SCARLETT & Robert MABLEY.
Debts due to the sayd Thomas KENDALL
Imprimis Nycholas KENDALL … xls (40s)
Luke MABLEY … xxs (20s)
Thomas ADAMS … xs (10s)
John HOMES … xs (10s)
Anthony KENDALL … viis vid (7s 6d)
Debts which the sayd Thomas KENDALL confessed that he dyd owe:
To Walter HALL thyrtye shillings to be payd by 10s the quarter.
Probate (in horrible writing & abbreviated Latin) granted at Brickhill on 3 Sep 1605 at the court of Mr John SMITH Surrogate (Mr William SMITH Deacon of the Arch… of Bucks…) by a commission granted to the executor named in the Will Agnes KENDALL (who was sworn) the other executor named in the Will (ie. Luke MABLEY)… unclear but he possibly refused the job.
Notes
Burial: 25 Jul 1605 Newport Pagnell – Thomas MYLLS or KENDALL (Familysearch images of original PRs, from Keri-Lynn Kendall)
See:-
KENDALL-MYLLS families (deduced family groupings post)
Appendix 1: MABLEY notes
Appendix 2: CLULEY notes
Analysis for will of Thomas Kendall of Newport Pagnell 1605
Key points:-
The religious clause is brief with no recognizable godly wording although brief religious clauses like this one often indicate a certain level of dissent, so the jury is out on Thomas's faith leanings. He was conformist to the (then Calvinist) Church of England to the extent of baptizing his children at the parish church.
Thomas' name is written as MYLLS alias KENDALL in his will, and he was buried as MYLLS alias KENDALL. But in the will, he names his children simply as KENDALLs.
He refers to a 'first' wife as well as his present wife Joan, but the PRs suggest he may have married three times in total.
An attempt at forming family groups from the damaged and blackened PRs 1560-1605 (see forthcoming post on Newport Pagnell familes) indicates that a Hewgh KENDALL was contemporary in Newport Pagnell with this Thomas (until Hewgh died in 1595/6). Thomas was a MYLLS in the PRs until the 1570s, baptizing his probable first four or more children as MYLLS (1563-70). But after a new marriage in 1574 (his own surname given as KENDALL for the first time), he baptized sons Nicholas and Henry as KENDALL. When marrying his final wife Joan in 1585, Thomas used KENDALL again and baptized their son Robert as KENDALL in 1586/7.
So it appears that he acquired the KENDALL name somehow in the 1570s, using it most of the time thereafter, and a logical possibility is that his second wife was a widow with a KENDALL maiden name, related in some way to Hewgh (for example, a sister).
It also seems likely that with the KENDALL name came some wealth or property that raised the former Thomas MYLLS to a more comfortable KENDALL status.
The will document supplied by Bucks Record Office from the Archdeaconry of Buckingham records is a probate copy and no signature or seal are indicated, so we can't know if Thomas was literate enough to sign his name. Judging by (deduced) descendants who signed documents with a mark, it seems likely that Thomas also was non-literate.
If the family were generally non-literate, this could explain why it was important for them to have the MYLLS alias KENDALL name both said and written by scribes into legally important documents, as they themselves were unlikely to possess written 'proof' of additional rights, assets or official identity that the second name brought.
Thomas does not state his occupation but when he bequeaths "all my wood" to wife Joan, that is a strong pointer to a trade of carpentry or similar occupation. Construction quality wood was valuable and only a person in such a craft would normally keep a stock in hand. This trade fits with probable sons and grandsons being carpenters.
The list of debtors indicates that Thomas was not poor, but at least modestly comfortable with enough cash to lend out to son Nycholas, probable kinsman Anthony KENDALL and others, while borrowing 30 shillings himself to be paid in three instalments. This lending and borrowing was common practice for anyone with spare cash (including women) in the centuries before banking facilities were widely available. It appears to have been one of the ways to seal kinship, trade and community links.
Although children and descendants of Thomas named MYLLS alias KENDALL (or vice versa) were named in plenty of deeds, as transcribed and published online in Newport Pagnell Historians' Archive, (https://www.mkheritage.org.uk/archive/nph/) sadly there are no mentions of Hewgh and Thomas in their lifetimes, nor in searches of Bucks Record Office online catalog. Hewgh did not leave a Will, nor did any other Newport Pagnell testator named MYLLS or KENDALL before 1605. This means we have no evidence yet for Hewgh and Thomas' parentage, and little corroboration for their uncertain marriages and children.
People in Thomas' will
Daughter Agnes
When Thomas wrote his Will on 11 July 1605, a few weeks before he died, Agnes was apparently still in residence with him and wife Joan. He shows his respect by naming her first, bequeathing a valuable range of goods & chattles (especially pewter) and appointing her co-executor with son-in-law Luke MABLEY (though whether a gift of half the lean-to was valuable is perhaps debatable). This strongly suggests none of his sons were nearby (or could be trusted!).
Wives aplenty – wife Johan in the Will was a second or third wife
In this period, Johan was aka Joan or Joanna, the names are all the same. Thomas mentions a 'first wife' in the will [probably Alice PRATT], so Joan must be his 2nd, or the 3rd, if the same Thomas made all three marriages seen in the PRs. Joan was treated well for a later wife, especially receiving her husband's valuable wood (and other half of the lean-to), though she was not appointed an executor.
It is possible that Joan was a widow when she married Thomas, and maybe his probable 2nd wife Elizabeth DAVY was too. Thomas was using the name KENDALL when he married Elizabeth in 1573 (first time that Thomas is seen with that name in the PRs) and she was buried as a KENDALL [not a MYLLS]. I speculate whether she was originally a KENDALL by birth and brought a good settlement to Thomas, marked by the adoption of the alias (though plenty other reasons could apply).
As for Joan, CLULEY is an uncommon surname (see CLULEY Appendix for more info) and this marriage of a CLULEY in 1585 is the only instance to be seen in Bucks from 1538-1618 (on the Find My Past website) even with variant CLULOW or CLU* search term. A check of the original Newport Pagnell parish register page image shows the name is definitely CLULEY and Findmypast searches show that this is a real surname, not a scribe's mistake. Until the 17th century it was mostly in Lichfield and Leek, Staffs, spreading wider from 1600 but not into Bucks, which raises the question of how 1605 Thomas came to know Joan CLULEY at all.
Sons John, Nycholas, Robert and Henry
John, Nycholas and Robert each received a token gift of a shilling each – this was a convention when children had already received whatever portion they could expect, and granting a small sum avoided the chance of them claiming they'd been forgotten so were due more. If we have the right dates for them from PRs, in 1605 John would have been ca. 40, Nycholas ca. 31, Henry ca. 27 and Robert, baby of the family, ca. 18 (probably still serving an apprenticeship if he did one).
It is possible that Thomas' son John was the one at neighboring Sherington who baptized a son Raph there on 9 Jan 1613/14, buried a son Thomas KENDALL in 1621 and was buried there himself on 26 Jan 1630/1 (speculatively aged ca. 65). In his son Thomas' burial entry at Sherington, John was named KENDALL alias MYLLS – that fact, his calculated age at death in 1631, plus sons named Raph and Thomas together make near certain this John was related to the Raph also baptizing babies in Sherington, and both were likely to be related to testator Thomas.
Nycholas was already married to Mary GARDYNER (married 8 Jan 1597/8 at Newport Pagnell) and had three or four children before his father Thomas died, and one more child afterwards. In a 1624 marriage settlement, he is named as deceased and as a former occupant of a Newport Pagnell house. Buried: 8 Apr 1624 at Newport Pagnell – Nicholas KENDALL.
Henry, interestingly described in the will as 'at London', was ca. 27, possibly also married by 1605, with a child or two. I've found no mentions of him in Newport Pagnell PRs after his baptism in 1578. He may have gone to London for apprenticeship (c1592) and either stayed or settled elsewhere.
It appears that father Thomas believed he had already made adequate provision for the four named sons and their families with only unmarried daughter Agnes in need of a proper bequest. Will convention was normally to list children in age order, eldest to youngest, sons first, then daughters. Thomas, however, put Agnes first and reversed the order for Robert and Henry, possibly because Henry was "at London" and got 40 shillings instead of a single shilling. Since we have no definite baptism for John, we can't be sure that he was the eldest of the four.
Daughter Johan married to Luke MABLEY
The will doesn't definitively state that daughter Joan was married to Luke MABLEY (rather than another MABLEY) but the wording leads to that conclusion, especially as Luke was appointed co-executor. Other than the baptisms and burials of his children at Newport Pagnell, Luke is a hard man to pin down in records, though other MABLEYs lived in North Crawley and in Sherington, and a Walter MABLEY of North Crawley was prominent later in Leighton Quakers. See MABLEY appendix.
Witness Rev Thomas YARROWE was minister at Newport Pagnell from 1575 to his death in 1608, and apparently married there even earlier in 1567 so he was a close contemporary to testator Thomas (also to Hewgh KENDALL) and would have known their marital and family circumstances well. It's possible that YARROWE was responsible for stating Thomas' surname as MYLLS alias KENDALL because, as he helpfully tells us ("wryter hereof") he wrote the Will for non-literate Thomas. He recorded the alias name again 14 days later when burying Thomas with the name MYLLS als KENDALL. Interestingly perhaps, a namesake Thomas YARROWE was baptised at Kings Walden, Herts in 1564, son of another Thomas. And for another coincidence: a Thomas YAROW registered his house in Enfield as a place of worship for Anabaptists in 1699.
Witness Robert MABLEY
A MABLEY as a witness is another indicator of closeness between these families. Robert may have married Sysley STEEL on 4 Nov 1592 at Newport Pagnell, an interesting match as it's highly possible that Rafe MILLS alias KENDALL's daughter Elizabeth married John STEELE in 1641. A Geoffrey STEEL married Agnes MABLEY in NP on 10 Feb 1598/9, so we can see a kinship network here.
Witness John SCARLETT
John SCARLETT is almost as hard as Luke MABLEY to pin down. This is a fairly rare name, mostly in other counties, including Norfolk & Shropshire. There are a few SCARLETT christenings, marriages, and burials before 1605 at Newport Pagnell, and only one Bucks Will: 1638 – William SCARLETT husbandman of Over Winchendon (DAWe 32 95; DAWf 32 232)
Creditor Walter HALL
Nothing seems to mark out Walter HALL as significant to the MYLLS-KENDALL story. His name occurs in a marriage and three baptisms before 1593, and in two Newport Pagnell deeds of 1595 and 1636, but neither show evidence of any connection to the MYLLS alias KENDALLs beyond the loan to Thomas.
Conclusions
This Thomas was the first to be named with the alias and, while we might imagine that was originally ascribed to him by Rev Thomas YARROWE, we have several other people continuing to use the alias name in Newport Pagnell and Sherington after Thomas' death. Their descendants continued to use it until 1759, so it clearly had significance for the family, something that first mattered for this Thomas in his lifetime. From this use of the unique alias name, we know which people were part of the same family as Thomas (including Francis KENDALL alias MILES in Woburn, Massachusetts), even if their exact relationships to each other are not always clear.
All transcribed wills must be corroborated by parish registers, Bishops Transcripts, wills, deeds & etc. but with the MYLLS alias KENDALLs we're hampered by needing evidence from early dates before the parish register starts in 1560, non-literate family members, a lack of local deeds before 1605, marriages to spouses from outside Newport Pagnell, a likely peripatetic lifestyle for carpentry work, to's and fro's with nearby London, and a severe lack of probates for married-in families especially for MYLLS and KENDALL individuals before the alias came about.
Celia Renshaw
7 June 2023, updated 27 Jun 2023
---
[1] "Wills" database, Buckinghamshire Council Archives (https://shop.buckscc.gov.uk : accessed 25 April 2023), pdf of Thomas Mylls als Kendall, 1605.